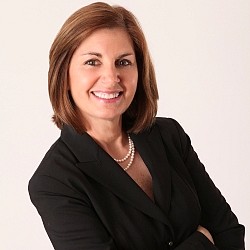 Denise Crean
Senior Sales Associate Back Bay/Beacon Hill Office
617-904-2039
203-858-9056
617-536-1144

About Denise
With over twenty years of residential brokerage experience, Denise has the kind of hands on expertise buyers and sellers appreciate. Recognized year after year as a top producer, Denise's approach has always been to serve each of her clients individually. She understands that whether it is a relocating executive moving to Boston or a couple making their third or fourth local move, their requirements in a home and their budgets will each be different.
She sees her job as first being a good listener. It is this ability to listen carefully that contributes to Denise's superlative negotiating skills and her ability to find creative solutions to most problems. Her clients appreciate this as they do her market knowledge, her enthusiasm, and her work ethic.
Denise holds a BS in Textile Design from Philadelphia University. Her design background is a real asset to both her buyers and sellers as she is often in a position to contribute her experience in this area. Perhaps the best testimonial to Denise's approach and skills in brokerage is her loyal following of past clients. If you have real estate needs in Greater Boston, you will be well served by her.